Vietnam cracks down on minorities amid pandemic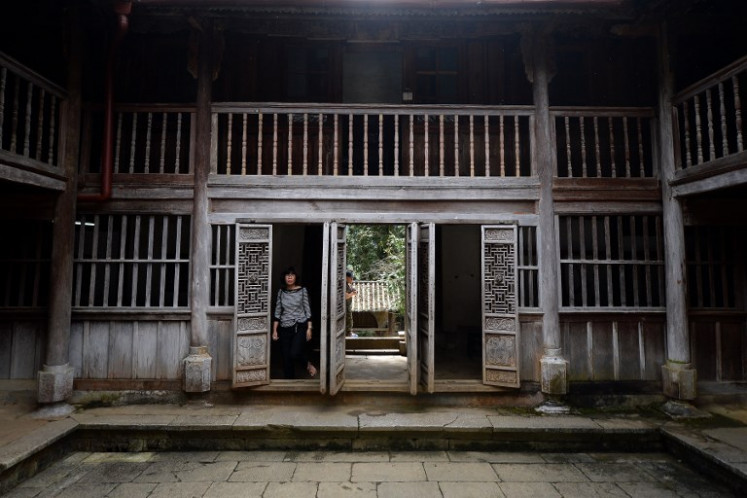 Poor and excluded: Tourists visit an ancient Hmong family heritage palace in Dong Van district, northern Vietnam's Ha Giang province on Oct. 26, 2018. The Hmong ethnic group have been largely excluded from Vietnam's glittering economic growth of the past decade, with more than 60 percent of the country's one million minority population living under the poverty line. (AFP/Nhac Nguyen)
The Jakarta Post, September 4, 2020
Many worry that the second wave of coronavirus cases, which emerged after nearly 100 days of zero confirmed new cases in early August, will further restrict the fundamental rights and freedoms in Vietnam.
Vietnam's actions during the first wave were globally praised from a public health perspective. But Vietnam used other countries' preoccupation with the pandemic to deepen its own rights crackdown, using its strong system of surveillance.
In one instance, in March, at the height of concern about the COVID -19 pandemic, Vietnamese authorities arrested three leaders of the unregistered religious group named Ha Mon in the Jo Mong mountain region in Gai Lai province. Forced to live in the forest for the last eight years, they now face lengthy imprisonment for the allegation of ''sabotaging the implementation of solidarity policies'' under Article 116 of the Penal Code.
Vietnam does not need a pandemic to enact draconian laws or punish dissenters by way of long and harsh prison sentences. For years, the country has had an abysmal human rights record. Monopolizing power through the government, the Communist Party of Vietnam severely restricts civil and political rights, punishes defenders and activists who dare to challenge the government in power, and represses its religious and belief communities.
Calling the landscape a ''museum of religions and beliefs'', the previous United Nations Special Rapporteur on Freedom of Religion or Belief, Heiner Bielefeldt visited Vietnam in 2014. He reported that ''conditions under which individuals and groups can exercise their right to freedom of religion or belief remain unpredictable.'' His visit was cut short because of the Vietnamese authorities' interference in his mission.
Reports by Human Rights Watch also note of persecution of religious minorities in the country. The Vietnamese state also regulates legal procedures and conditions of religious and belief groups through the Law on Belief and Religion which was enacted in January 2018. Requiring all religious or belief groups to register and provide information about their activities, the law gives authorities overly broad powers to control and restrict the right to freedom of religion or belief that are seen to "violate social morality." For groups that choose not to register or whose application is rejected or ignored, authorities subject them to various levels of harassment, intimidation and violence. Unregistered groups like the ethnic Montagnard and Hmong Christians continue to live under a hostile environment where authorities break up house church gatherings, imprison persons they identify as political activists, and ill-treat people belonging to this community.
In reality, all religious groups and individuals in Vietnam face some kind of restriction to their right to freedom of religion or belief. Those facing restriction or persecution include, but are not limited to, the independent Cao Dai; independent Buddhists such as the Unified Buddhist Church of Vietnam, Hòa Hao Buddhists and Khmer Krom Buddhists; Montagnard and Hmong Christians; Catholics, indigenous peoples and followers of Duong Van Minh and Falun Gong.
Their harassment comes in the form of interrupting and preventing religious services and gatherings, forcing individuals to leave their faith, intimidation, harassment, physical violence, destroying properties, and seizing the land of religious significance under the excuse of economic development.
Several religious leaders and advocates languish in Vietnamese prisons which are known for their poor conditions. One of the more prominent prisoners of conscience is Nguyen Bac Truyen, a Hòa Hao Buddhist and longstanding human rights defender, especially for the rights of religious minorities. On July 30, the third anniversary of his imprisonment, many international advocates called for his unconditional and immediate release. A prominent initiative for Nguyen Bac Truyen was led by ASEAN Parliamentarians for Human Rights (APHR) and the International Panel of Parliamentarians for Freedom of Religion or Belief (IPPFoRB). Over 60 current and former parliamentarians from 28 countries around the world, including many from ASEAN countries supported an open letter addressed to Vietnamese Prime Minister Nguyen Xuan Phuc. In the letter, parliamentarians from ASEAN countries such as Malaysia, Indonesia, The Philippines, and Timor Leste called for the release of Truyen and others who are currently imprisoned for peacefully exercising their human rights. The parliamentarians also urge authorities to adhere to their international human rights obligations and ensure the right to freedom of religion or belief for all in the country. ASEAN nations must rise above themselves to ensure that human rights, including the right to profess and practice one's faith safely and peacefully, are protected and defended in the region.
A global pandemic cannot be used as a convenient excuse to stifle civil liberties and the right to freedom of religion and belief. Parliamentarians and civil society have a role to play in this time of heightened anxiety to guarantee appropriate checks and balances on powers exercised by governments. *** Member of Parliament of Malaysia representing Batu Kawan and steering committee member of the International Panel of Parliamentarians for Freedom of Religion or Belief (IPPFoRB)