Prisoner of Conscience Pham Chi Thanh Sent to Mental Facility Six Month After s Being Held in Police Custody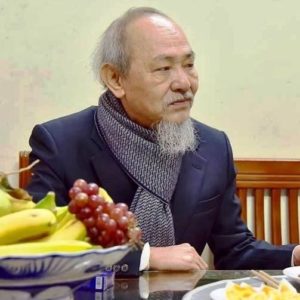 Defend the Defenders, November 28, 2020
Authorities in Vietnam's capital city of Hanoi have forcibly committed political dissident and well-known blogger Pham Chi Thanh (penname Pham Thanh) to the Central Psychiatric Institute for mental health examination six months after his detention on charge of "conducting anti-state propaganda" under Article 117 of the country's Criminal Code, his family informed Defend the Defenders.
His wife, Nguyen Thi Nghiem, said a security investigator from the Hanoi Police Department informed her on November 26 that he had been transferred from the city police's Temporary Detention Facility No.1 to the mental facility on November 25. However, the police officer did not provide the reason for the move.
One day later, Mrs. Nghiem went to the Central Psychiatric Institute to request a meeting with Mr. Thanh, however, the facility's authorities denied her request. They only permitted her to send him some food and other stuff.
Mrs. Nghiem said before being arrested in late May, Mr. Thanh was healthy and exhibited to signs of mental or physical illness. She said she is very concerned about the new development in her husband's case and fears he may be held in this facility for enforced treatment for a lengthy period.
Mr. Thanh, 68, is a retired reporter and editor of the state-controlled Voice of Vietnam Radio (VOV). He has written a number of books critical of the ruling Communist Party of Vietnam and its leaders, including late President Ho Chi Minh and incumbent General Secretary cum President Nguyen Phu Trong. His posts on his blog Bà Đầm Xoè are mainly critical of the ruling Communist Party of Vietnam and its leader Trong. Last year, he released a book tittled Thế thiên hành đạo hay Đại nghịch bất đạo (Holder of Mandate of Heaven or Great Immoral Traitor) and its main character is the incumbent party chief.
He had a blog named Bà Đầm Xoè on which he has posted his writings on politics and social issues, including China's violations of Vietnam's sovereignty in the East Sea (South China Sea) and the weak response of the Vietnamese Communist regime, systemic corruption, widespread environmental pollution, human rights violations, etc.
The arrest of Mr. Thanh is part of Vietnam's intensified crackdown on local dissent as the ruling Communist Party of Vietnam is preparing for its 13th National Congress slated for early January next year.
So far this year, Vietnam's communist regime has arrested 29 activists and sentenced 15 activists to between 18 months and eight years in prison. It also convicted six land petitioners in Dong Tam for "murder" and sentenced two of them to death and four of the remaining to lengthy imprisonment as well as imprisoned eight other land petitioners for "resisting on-duty state officials" during the brutal attack of thousands of riot police in their Hoanh village on January 9 this year.
According to Amnesty International, Vietnam is the largest jailer of prisoners of conscience while the latest statistics of Defend the Defenders shows that Hanoi is holding at least 260 prisoners of conscience. Reporters Without Borders regularly ranks Vietnam among the worst five countries on press freedom and the jailing of bloggers in particular. Vietnam's communist government always denies it has any prisoners of conscience, saying it imprisons only law violators.
It is concerning that Vietnam's communist regime continues its trick to hold local activists in mental facilities for enforced treatment where they are beaten and forced to take unknown medicines. Its victims include blogger Le Anh Hung and pro-democracy activist Nguyen Trung Linh.