Human Rights Activist Nguyen Thuy Hanh Summoned for High-tech Crime Due to Her Support for Defenders-at-risks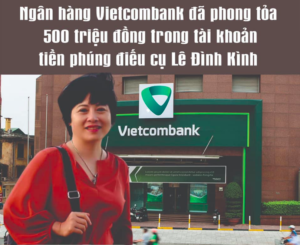 Defend the Defenders, December 2, 2020
The Police Department of Vietnam's capital city of Hanoi has summoned local human rights activist Nguyen Thuy Hanh in relation to a high-tech crime case due to her activities which aim to support prisoners of conscience and defenders-at-risks across the nation.
Earlier this week, the local authorities came to her private residence in the capital city to make a working minute for her refusal to appear to the Security Investigation Agency as the summoning letter requests due to her traveling to the countryside in recent weeks.
The city police threaten to detain her if she does not obey the request. According to the city police's information, the summon was proposed by the Department of Cyber Security and High-tech Crimes of the Ministry of Public Security.
Mrs. Hanh is among the most active human rights defender and democracy campaigner. She has been involving in activism in 2011 by participating in peaceful protests against China's violations of the country's sovereignty in the East Sea (South China Sea).
Several years ago, she founded 50K Fund to collect contributions from Vietnamese in the country and abroad and use the fund to support activists harassed by the communist regime and the families of those being imprisoned for their activism.
After the brutal attack of thousands of riot police on Dong Tam commune in the early morning of January 9 this year, hundreds of people contributed more than VND500 million ($21,300) to the victims land petitioners to her bank account. However, the regime froze her account and still holds the sum, saying the money was financed terrorist acts. She was kidnapped and taken to a police station where she was interrogated by officers from the Ministry about her support given to prisoners of conscience and harassed activists.
Recently, the state-controlled media has accused 50K and other private funds run by local activists which assist defenders-at-risks of financing anti-state individuals, and threaten to punish those involving.
In July 2019, Hanh and her husband Huynh Ngoc Chenh as well as dozens of other activists and relatives of prisoners of conscience were beaten and having items broken and robbed by plainclothes policemen and thugs near the Prison camp No. 6 in the central province of Nghe An when they went to support prisoners of conscience held in the prison who were on hunger strike to protest maltreatment.
Due to her health conditions amid increasing crackdown on her and other activists, in late November, she announced to suspend her 50K Fund.
Mrs. Hanh is listed as defender-at-risk by Project88 and Defend the Defenders. She faces arrest of any time by Vietnam's security forces which strive to silence the local dissidents and social activists prior to the 13th National Congress of the ruling Communist Party of Vietnam scheduled for January next year in which the party will elect the country's leadership for the next five years.