Appeal Hearing of Four Members of Constitution Group Scheduled on January 8, Little Hope for Reduced Sentences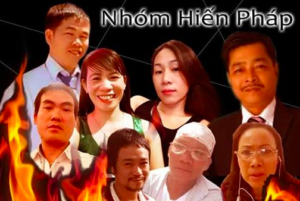 Defend the Defenders, December 28, 2020
The Higher People's Court in Ho Chi Minh City has decided to hold the appeal hearing of four members of the unsanctioned group Hiến Pháp (Constitution) on January 8, nearly three weeks prior to the 13th National Congress of the ruling Communist Party of Vietnam which is slated for January 25-February 2.
The appeal hearing will be openly carried out in the headquarters of the Higher People's Court in HCM City, according to the court's summoning letter sent to Saigon-based lawyer Dang Dinh Manh, who will provide legal assistance for Mr. Ngo Van Dung, who was sentenced to five years in prison and two years of probation on charge of "disruption of security" under Article 118 of the Criminal Code by the People's Court of HCM City at the first-instance hearing on July 31 this year.
Nearly five months ago, the People's Court of HCM City convicted eight members of the Hiến Pháp group of "disruption of security" for their active participation in the mass demonstration to protest two bills on Special Economic Zones and Cyber Security in HCM City on June 10, 2018 and their plan to hold peaceful protests in early September of the same year. After just one day review, the court gave Ms. Nguyen Thi Ngoc Hanh eight years in prison, Mrs. Hoang Thi Thu Vang- seven, Ms. Doan Thi Hong two and half years, Mr. Ngo Van Dung, Mr. Do The Hoa and Mr. Le Quy Loc five years each, Mr. Ho Dinh Cuong four and half years, and Mr. Tran Thanh Phuong three and half years in prison.
In addition, Mr. Dung, Mr. Cuong, Mr. Phuong, and Ms. Hong were given two years of probation after serving their imprisonment. Four others were given three-year probation.
After the trial, four of them, Ms. Hanh, Mr. Dung, Mr. Loc and Mr. Cuong protested the court's decisions and appealed.
According to attorney Manh, he has received the summoning letter of the Higher People's Court in HCM City informing him that he will get access to the appeal hearing. However, he has not yet been permitted to meet with his client to prepare for defense in the upcoming hearing. It is unclear whether he can get approval to meet Mr. Dung before the hearing takes place. Defend the Defenders has no information about other three activists.
Based on the outcomes of the appeals in political cases in recent years and the communist regime's increasing crackdown on the local dissent, there is a little hope for the four activists to get lighter imprisonment in the appeal hearing,
Hiến Pháp was established in 2017 with the aim of enhancing civil rights in Vietnam by disseminating the country's Constitution which was ratified by the communist-controlled parliament in 2013. The eight convicted members, together with others of the group were active during the mass demonstration in HCM City on June 10, 2018 in which tens of thousands of people from all social classes rallied on streets to protest two bills on Special Economic Zones and Cyber Security. The first bill is considered to favor Chinese investors to purchase land in Vietnam amid increasing concerns of Beijing's intensifying aggressiveness in the East Sea (South China Sea). The second which was approved by the communist-controlled parliament and became effective from January 1, 2019, is considered an effective tool to silence online government critics.
Members of the group planned to hold the second peaceful demonstration in early September of the same year on the occasion of Vietnam's Independence Day (September 2) to protest the socio-economic policies of the communist regime. However, they were abducted by security forces in HCM City a few days before the action date. Their fate and whereabouts remained unknown for months as the police held them incommunicado without informing their families, possibly rising to the level of enforced disappearance under international law, and even after the families had been informed of the detention they remained incommunicado for nearly a year.
The first two of the defendants, Ms. Hanh and Mrs. Vang were charged with Clause 1 of Article 118 and sentenced to eight and seven years in prison, respectively, while the remaining six were accused under Clause 2 of the same article and sentenced to between 30 months and six years in prison.
In February, Ms. Hong, who was detained when her daughter was about two years old, informed her family that she was held in very severe conditions. Since being arrested, she has been under physical and mental torture constantly, according to the information she gave her older sister.
In mid-April this year, Mr. Dung and Mr. Loc were brutally beaten by police officers while being held in Phan Dang Luu temporary detention center under the authority of HCM City Police Department. Due to the severe injuries, both were taken to a hospital for urgent treatment for ten days.
Despite doing nothing harmful for the country, Hiến Pháp group has been targeted by Vietnam's communist regime. Two members of the group Pham Minh The and Huynh Truong Ca were convicted of "abusing democratic freedom" and "anti-state propaganda" with respective imprisonment of two years and five and half years in 2018-2019. Mr. The was released on July 10 this year, three months before his imprisonment term was set to end.
Three other members of the group fled to Thailand to seek political asylum to avoid being punished by the Vietnamese regime.
In 2020, Vietnam arrested 32 activists and 29 land petitioners from Dong Tam, according to Defend the Defenders' latest statistics. Ms. Le Thi Binh became the latest activist being arrested this year, got detained on December 22 and charged with "abusing democratic freedom." Binh is also a member of the Hiến Pháp group.
The Hanoi-based human rights group says the communist regime convicted 20 activists to between nine months and 12 years in prison. The People's Court of Hanoi also gave two death sentences, one life imprisonment sentence and many other lengthy imprisonments to Dong Tam land petitioners who were unjustly convicted of murdering three police officers during the attack of thousands of riot policemen in the commune on January 9 this year.
Three weeks ahead of the 13th National Congress of the ruling party in which the country's leadership and socio-economic plan for the next five years will be formally selected, on January 5, the People's Court of HCM City will hold the first-instance hearing to try three members of the unregistered professional group Independent Journalists Association of Vietnam on the charge of "conducting anti-state propaganda" under Article 117 of the Criminal Code. Its President Dr. Pham Chi Dung, Vice President blogger Nguyen Tuong Thuy, and editor Le Huu Minh Tuan face imprisonment of between ten to 20 years in prison if they are convicted. The trio have been held incommunicado since their arrest until early December this year when they were permitted to meet their lawyers after the investigation ended.