IJAVN Vice President Nguyen Tuong Thuy Refuses to Appeal Lengthy Imprisonment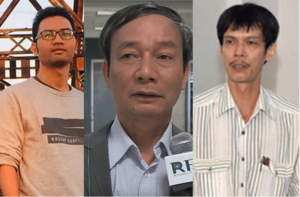 Defend the Defenders, January 29, 2021
Vice President of the unsanctioned professional group Independent Journalists Association of Vietnam (IJAVN) Nguyen Tuong Thuy has refused to appeal his sentence of 11 years in prison and three years of probation given by the Trial Panel of the People's Court of Ho Chi Minh City during the first-instance hearing on January 5, Defend the Defenders has learned.
According to his lawyer Nguyen Van Mieng who got information from a person also jailed in the same detention facility, on January 15, Mr. Thuy was about to submit his appeal while being held in Phan Dang Luu temporary detention center under the authority of the HCM City Police Department. However, he got angry when police officers insisted that he re-write the appeal letter following their instructions.
Disagreeing with their attitude, Mr. Thuy reportedly tore his appeal letter and went back to his cell, giving up his right to contest the sentence imposed on him on the allegation of "conducting anti-state propaganda" under Article 117 of the Criminal Code.
On January 29, his wife Pham Thi Lan went to Phan Dang Luu temporary detention center to meet him and supply him with some food stuff as promised by police. She was informed that he had been transferred to Bo La prison camp in Binh Duong province where he would be held shortly before being taken to another prison camp where he will servehis sentence.
When Mrs. Lan when to Bo La prison camp, the prison's authorities told her that she could not meet him but only send money for him to purchase additional food and stuff from the prison's canteen, which reportedly sells goods at two-three times above market prices.
It is likely IJAVN's President Dr. Pham Chi Dung has also been transferred to Bo La prison camp after he gave up his right to appeal his unfair sentence. Only Mr. Le Huu Minh Tuan, one of the trio sentenced in the same case, has submitted his appeal. Like Mr. Thuy, Tuan was also sentenced to 11 years in prison and three years of probation. There is a little chance for Tuan to get freed or receive a lighter sentence in the appeal hearing given the fact that a few activists have been released or got prison sentences reduced in their appeals.
Both Dr. Dung and Mr. Thuy have no trust in Vietnam's judicial system and they have no hope for fair hearing, so they have denied their right of appeal, according to their families.
After their trial on January 5, the domestic dissent and the international community have strongly condemned Vietnam's communist regime, demanding Hanoi to drop their charges and release them as well as other prisoners of conscience immediately and unconditionally.