Security Agents in Central Vietnam Attack Four Hanoi-based Activists Ahead of Int'l Human Rights Day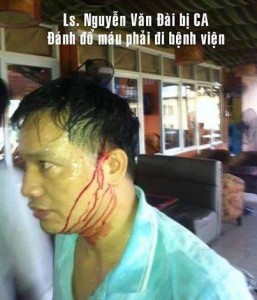 [themify_box style="blue, announcement, rounded" ]The attack happened when the activists traveled by a taxi on their return to Hanoi. Masked plainclothes agents, traveling on two cars without registered numbers and five motorbikes, stopped the taxi in Nghi Loc district and started to beat four activists and the driver with iron batons.[/themify_box]
By Vu Quoc Ngu, Dec 07, 2015
On afternoon of Sunday [December 6], just four days ahead of International Human Rights Day, security forces in Vietnam's central province of Nghe An severely assaulted human rights lawyer Nguyen Van Dai and three pro-democracy activists Vu Van Minh, Ly Quang Son and Le Manh Thang who came from Hanoi to visit local activists and Catholic followers in Nam Dan parish.
The attack happened when the activists traveled by a taxi on their return to Hanoi. Masked plainclothes agents, traveling on two cars without registered numbers and five motorbikes, stopped the taxi in Nghi Loc district and started to beat four activists and the driver with iron batons.
Injured Minh, Son and Thang escaped from the deadly chasing in a village while Dai was beaten and brought to Cua Lo, about 15 km from Quan Hanh. The attackers robbed all his cell phones, wallet and other items, and left him on street.
The three activists reported that the attackers also took all their items and money.
Local residents just watched the attacks, saying they are feared of being revenged by security agents.
Informed about the assault, Nghe An province's activists came and brought the victims to safe place.
Earlier in the day, the Hanoi-based activists attended a meeting with local activists and residents to mark International Human Rights Day [December 10]. Policemen came and tried to disrupt the meeting, however, they met strong protests from people. They stayed nearby and followed the guests when they left for Hanoi.
One day earlier, on Saturday, Mr. Dai, together with former political prisoner Pham Van Troi and several other activists was barred from attending another meeting to mark International Human Day 2015 held in the Hanoi-based Thai Ha Redemptorist Church.
This is the second attack against Mr. Dai, a former political prisoner, in recent years. Last year, he was beaten with glass by thugs in a restaurant in Hanoi.
The assault is among series of attacks of police or hired thugs against government critics and social activists in recent months as the Vietnamese communist government has tightened control ahead of the ruling communist party's National Congress slated in early 2016.
Along with arresting prominent blogger Nguyen Huu Vinh and his assistant Nguyen Thi Minh Thuy, Nguyen Viet Dung, the founder and leader of the unsanctioned Republican Party of Vietnam, and Tran Anh Kim, former political prisoner in Thai Binh, the police has deployed plainclothes agents and thugs to assault activists.
Former prisoners of conscience Do Thi Minh Hanh, Truong Minh Duc, Tran Minh Nhat, Chu Manh Son and Tran Duc Thach, human rights lawyers Tran Thu Nam and Le Van Luan, bloggers Truong Van Dung, Tran Thi Nga, Truong Minh Hương and Nguyen Tuong Thuy are among the recent victims of the intensified persecution by Vietnam's security forces which strive to prevent the formation of any opposition parties or movements.
Vietnamese Minister of Public Security General Tran Dai Quang, who is expected to be among top four leaders for the 2016-2021 period,  has labeled 60 unregistered civil society organizations which have voiced against systemic corruption, poor economic management and weak response to China's violations of the country's sovereignty in the East Sea, as "reactionary groups".