Two Vietnamese Activists Officially Charged with Subversion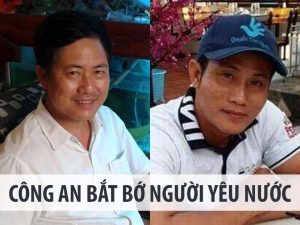 [themify_box style="blue comment rounded"]Mr. Vinh and Mr. Do will be held for investigation for at least four months. They may face punishment of five years in prison to life imprisonment, even capital punishment, according to the Penal Code.[/themify_box]
By Defend the Defenders, November 17, 2016
Police in Vietnam's southern economic hub Ho Chi Minh City have officially charged two local activists Luu Van Vinh and Nguyen Van Duc Do with carrying out activities aimed at overthrowing the people's administration under Article 79 of the country's Penal Code.
The two activists, detained by the city's security forces on November 6, are being investigated for their roles in the newly-established Coalition of Self-determined Vietnamese People which strives to fight for multi-party democracy and human rights enhancement, said the city's Department of Public Security in its letter to their families.
Mr. Vinh and Mr. Do will be held for investigation for at least four months. They may face punishment of five years in prison to life imprisonment, even capital punishment, according to the Penal Code.
Vinh was beaten and detained in his private residence in the city during the lunch on November 6 while Do was arrested after visiting Vinh's house earlier on the same day. Police also detained between nearly ten others related in the same case on the same day but released them after torturing and interrogating them for several days, the victims said after being released.
The arrests were said to be linked to the Coalition for Self-determined Vietnamese People. Mr. Vinh founded the coalition in mid-July and became the president of the organization which aims to end the communists' political monopoly. All major issues of the country should be decided by the people via referendums, according to its founding statement.
However, Vinh was reported to have left the coalition and was planning to set up another organization to fight for multi-party democracy and enhance human rights in the nation.
Vinh, 49, participated in many peaceful demonstrations in Hanoi and HCMC to protest China's violations of Vietnam's sovereignty in the East Sea (South China Sea) and the company Formosa's discharge of huge amount of toxic industrial waste into sea waters in the central province of Ha Tinh which caused massive death of fisheries in four central coastal provinces.
He had been detained many times, including the three-day arrest in May after he took part in a peaceful demonstration on environmental issue.
The arrests of Vinh and other activists are part of Vietnam's intensifying crackdown against local dissidents, social activists and human rights defenders amid increasing public awareness about the country's socio-economic problems, including systemic corruption and widespread environmental pollution.
On October 10, Vietnam arrested prominent blogger and human rights activist Nguyen Ngoc Nhu Quynh and, three weeks later, well-known blogger Ho Van Hai. The two bloggers were accused of conducting anti-state propaganda under Article 88 of the Penal Code.
Vietnam has imprisoned around twenty activists and detained nearly ten others so far this year. In addition, hundreds of activists have been brutally tortured by police officers and assaulted by plainclothes agents.
Vietnamese communists have ruled the country for decades and strive to hold the country under a one-party regime. The security forces have been requested to prevent the establishment of opposition parties.