Dong Nai Police Release Former Prisoner of Conscience Doan Van Dien after 38 Days of Illegal Detention, Still Seeking for His Son Doan Huy Chuong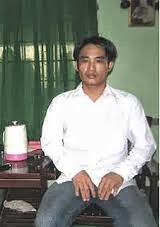 Defend the Defenders, January 30, 2018
Police in Vietnam's southern province of Dong Nai have released former prisoner of conscience Doan Van Dien after 38 days of arbitrary detention but still sought for his son Doan Huy Chuong, who is a vice president of the unsanctioned Viet Labor Movement.
Mr. Dien, who was detained on December 24 last year, was freed on January 30, his family informed Defend the Defenders.
Police forced the oldest son of Mr. Dien namely Doan Huy Tam to make a commitment to inform them if he is participating in any anti-state organization. However, the main target of the police is Mr. Dien's second son Chuong, who is also a former prisoner of conscience released in February last year after seven years serving in prison for his union activities.
Police interrogated Tam about his younger brother Chuong, requesting him to provide a telephone number of Chuong who has been forced to hide since late December after his father's detention.
Chuong's activities aiming to help workers, especially in foreign-invested companies to fight for higher salaries and better working conditions are the reason Vietnam's authorities want to arrest him.
Prioritizing higher gross domestic product (GDP), Vietnam's government has supported companies, including foreign-invested ones, but ignored environmental pollution and workers' life. According to state media, the average income of Vietnamese workers is ten times lower that the ASEAN average workers' salary.
Since being released in February 2017, Chuong has continued working for workers' rights. He is one of the most active figures of the Viet Labor Movement.