Labor Activist Do Thi Minh Hanh Attacked with Tear Gas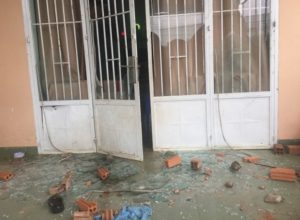 Defend the Defenders, July 4, 2018
During the night of July 3, under-cover policemen in Vietnam's Central Highlands province of Lam Dong attacked the private residence of labor activist Do Thi Minh Hanh with stones, bricks, wasted lubricant oil and tear gas, the victim told Defend the Defenders.
Ms. Hanh, former prisoner of conscience and president of the unsanctioned organization Viet Labor Movement, said the attack started at around 11.30 PM as they cut off electricity of the house in Di Linh commune, Di Linh district, in which she and her elderlyfather live.
Later, thugs threw stones and bricks as well as wasted lubricant oil into the house, breaking all glasses in windows and doors.
Few minutes later, her 76-year-old father detected a strange and uncomfortable odor. Minh Hanh reported her skin feeling hot and burning, and havig trouble breathing without coughing.They suspected that the thugs sprayed the house with tear gas.
The assault lasted several hours during the night, Ms. Hanh said.
In the early morning, Ms. Hanh used an empty glass on a table near a window to take water and drink. Shortly after that, she felt pain in her throat and mouth. She suggested that the glass was contaminated with the toxic substances the thugs used to assault them.
It took Hanh and her father hours to clean bricks, stones and plastic bags the thugs used for lubricant oil. They found also some glass bottles which were used for toxic substances, Hanh said, adding she telephoned the local police but they never came.
The attack was among a series of assaults against Ms. Hanh and her father since late June.
The campaign of plainclothes agents startedon June 24 with anassault against her on street by two masked men.
Overthe next two nights, thugs attacked their house with stones and bricks, and on June 27, they even threw a hand-made bomb into the house, however, the deadly device failed to work.
The thugs repeated their violent acts on June 30 and July 1.
Hanh tried to call the local police to report the assault but they did not answer, she said.
Ms. Hanh, who was sentenced to seven years in prison on allegation of disrupting security for her union activities but spent only four years and four months in prison in 2010-2014 thanks to international pressure, has been a constant subject of police harassment.
In May, she was barred from going to visit her mother in Austria where she is staying with Hanh's older sister.
Hanh had recently returned from HCMCity to DiLinh to take care ofher elderlyfather in Lam Dong. However, the local police have maintained tight surveillanceover her activities.
Under-cover policemen have hired a room near her father's house to keep close eyes on her.
The recent aggressive moves of the Lam Dong police likely aim to force her to move out of the province.
Hanhis the third victim of theLam Dong police inrecentweeks. Lastweek,they also attacked former prisoner of conscience Truong Van Kim and religious activist Hua Phi.
In the morning of June 27, blogger Dinh Van Hai came to Hanh's house to support her. On the way to go home, he was beaten up and badly injured by a group of thugs. Hai received a broken right hand and left shoulder from the assault. Mr. Hai was taken to the Di Linh district general hospital for treatment of the injuries.
On July 2, Amnesty International issued a statement calling the authorities in Lam Dong to take measures to protect Ms. Minh Hanh and her father, and launch an investigation to bring the attackers to justice.
"These disturbing incidents pose a serious threat to Do Thi Minh Hanh's safety and have left her and the family fearing for their lives. The authorities of Di Linh town must take urgent steps to protect her before the situation deteriorates further.
"The attacks, which are becoming increasingly violent, are likely motivated by Do Thi Minh Hanh's high-profile activism – this must not be used by authorities as a reason to turn a blind eye. Local police must ensure that measures are immediately put in place to protect Do Thi Minh Hanh and Vietnamese authorities must launch an investigation to bring those responsible to justice," said Minar Pimple, Senior Director of Global Operation at Amnesty International.