Trial against Pro-democracy Campaigner Le Dinh Luong Re-scheduled on August 16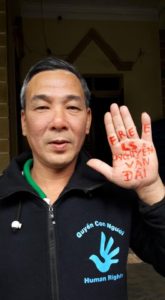 Defend the Defenders, August 10, 2018
The People's Court of Nghe An has decided to hold the first-instance hearing of pro-democracy campaigner Le Dinh Luong on August 16 after postponed it two weeks ago.
Initially, the trial against the activist was set on July 30, but one of his lawyers, Mr. Dang Dinh Manh, asked the court to delay it as he couldnt find time to meet with his client to prepare for his defense due to his busy schedule.
This week, Mr. Manh went to the Nghi Kim temporary detention under the authority of the Nghe An province's Police Department to meet with Mr. Luong. Ha Huy Son, the another lawyer, visited the rights advocate on July 23.
Mr. Luong, a 53-year-old resident from Yen Thanh district, was arrested on July 24 last year on allegation of subversion under Article 79 of the country's 1999 Penal Code.
He has been held incommunicado since being arrested until late July when his lawyers got approval from the People's Procuracy to meet with him to prepare for his defense.
Mr. Luongis a veteran in the war against China's invasion of Vietnam's northern region in 1980s. State media reported that Mr. Luong is an extremely dangerous element belonging to the U.S.-based Viet Tan (Vietnam Reform Party) which is labeled by Vietnamese authorities as a terrorist organization.
According to the Nghe An police, Mr. Luong once called for boycotting the elections of the parliament and local People's Councils while capitalizing on the environmental disasters caused by Formosa to cause social disorders and instigate demonstrations.
Mr. Luong himself was attacked by under-covered policemen in the Central Highlands province of Lam Dong in August 2015 when he visited Tran Minh Nhat, who then completed his sentence on alleged subversion. Many other activists were also beaten in that incident.After his detention, his relatives were also brutally beaten by police forces twice.
Thearrest of Luong is part of Vietnam's intensified crackdown on local political dissidents, human rights advocates, social activists and online bloggers.Since 2017, more than 50 activists have been arrested and charged with vague articles in the national security provisions such as subversion and "conducting anti-state propaganda" of the Penal Code. Most of them have been convicted and sentenced to severe imprisonments up to 16 years in prison.
Among convicted are prominent human rights attorney Nguyen Van Dai, who was sentenced to 15 years in prison and five years of probation, human rights defender Nguyen Ngoc Nhu Quynh, a well-known blogger with penname Mother Mushroom, who was given ten years in prison, and environmentalist and labor activist Hoang Duc Binh, who was sentenced to 14 years in prison.
If convicted, Luong face imprisonment of up to life imprisonment or even death punishment, according to the current Vietnamese law.In recent months, Vietnam has jailed 13 activists with the same charge, with imprisonment terms of between seven and 15 years in prison and one and five years under house arrest afterward.
Vietnam will also hold the trial against Nguyen Trung Truc, spokesman of the unsanctioned online organization Brotherhood for Democracy on August 17. He was arrested on August 4, 2017 and charged with subversion.
In late July, Human Rights Watch issued a statement calling on Vietnam's communist regime to drop all politically-motivated charges against Mr. Luong and release him immediately and unconditionally.
"Vietnamese authorities frequently employ fabricated political charges to punish activists for being affiliated with non-communist groups or parties critical of the government," said Phil Robertson, deputy Asia director at Human Rights Watch.
"Le Dinh Luong is facing prison for protesting the dumping of toxic waste and other environmental disasters that the government should be doing something about," he noted.
"Vietnamese police routinely deprive detained rights activists and bloggers of access to lawyers and family members for months, and then only give their lawyers a very short time to prepare the case before trial," Robertson said, adding "Fundamental change is needed in Vietnam's justice system, but for the needed reform there is no light at the end of the tunnel."