Blogger Ngo Van Dung Detained while Conducting Live Stream in HCM City's Center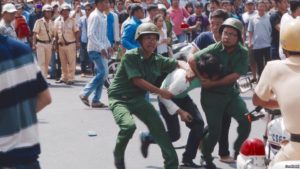 Defend the Defenders, September 4, 2018
Authorities in Ho Chi Minh City have detained independent blogger Ngo Van Dung when he was making live stream program on Facebook in the city's center, according to his fellows.
Mr. Dung was repotedly arrested at noon of Tuesday and now is held in the police station of Ben Nghe ward, District 1.
It is unclear whether he will face criminal charge or not, activists said.
Six months ago, Dung was detained by the police in his home province of Dak Lak when he was covering news on the demonstration of sacked school teachers in the province.
Police took himand his fellow namely Nguyen Uy Thuyinto custody for interrogation for hours and released them on late afternoon of March12. However, policeconfiscated their cell phones the activists used for filming the demonstration.
Meanwhile, in response to online calls of exiled Facebookers for mass demonstration on the occasion of the 73th Independent Day (September 2), security forces in major cities are put on alert.
Hanoi and HCM City are de facto placed under state of emergency as police, including riot police and militia are deployed to patrol large streets to prevent public gatherings. Many streets have been barricaded while numerous activists have been placed de factor under house arrest since late August.
On June 9-11, tens of thousands of Vietnamese rallied on streets in Hanoi, HCM City, Danang, Nha Trang and Binh Thuan and other locations to protest two bills on Special Economic Zones and Cyber Security. This was the largest demonstrations in many in the communist nation where spontanous gatherings are not welcomed by the government while participants have been facing harassment and imprisonment.
On June 17, authorities in HCM City detained hundreds of people walking in the city's center, taking them into custody where most of them were subjects of torture and interrogation for hours.
Vietnam has also convicted around 40 individuals participating in the mass demonstration in mid June on allegation of "causing public disorders," giving them imprisonments of between eight and 42 months in prison.