Dissident Teacher Tran Huu Dao Kidnapped and Beaten, Plainclothes Agents Are Likely Perpetrators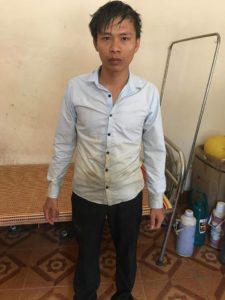 Defend the Defenders, September 4, 2018
High school teacher Tran Huu Dao from Vietnam's central town of Thai Hoa, who has dissent view and often voices against human rights violations in the country, has been kidnapped and assaulted by a group of unknown men, the victim told Defend the Defenders.
Mr. Dao said he was detained by three men in civilian clothes when he walked from Phung Nham bus station to his school namely Thai Hoa town High School, at around 8.40 AM of Tuesday. The men came from a taxi car, Dao noted.
The men blocked his hands and closed his mouth, dragging him into the taxi car. They intended to be people detaining debtor in order to make the taxi driver unsuspisious.
During the journey, they continously beat beat him. When the car arrived in a remote area of Nghia Minh commune, they ordered the driver to stop and they took Mr. Dao out. They beat him, knocking him down in a mud, and  continued to assault.
After Dao collapsed into the mud, they took his cell phone and destroyed, and left the scene with the taxi car.
Mr. Dao said it took him around five minutes to wake up from the mud scence. He took a bath from a pond made by buffalos and went to a road to call for help to go back to his school.
Dao said the kidnappers are very professional as they beat him without leaving scratches on his body.
Due to his Facebook posts, Dao has been under threats of members of the Red Flag group which consists of young individuals supporting the communist party and its government.
Last year, Dao rent an apartment near his school to live, but he was forced to leave it and travels 60 km from his parent's house in Dien Loi commune, Dien Chau district to the school as member of the group threatened to kill him.
However, the kidnappers are likely plainclothes policemen, the victim told Defend the Defenders, adding they acted like professionals with high confidence.
Along with arrests and convictions on controversial allegations in the national security provisions in the Penal Code, Vietnam's security forces have applied kidnaps and tortures on local dissent.
Around 50 activists have been kidnapped and beaten by plainclothes agents in the past few years, according to Defend the Defenders.