Trial against HRD Huynh Thuc Vy on Allegation of Disrespecting National Flag Set on Nov 22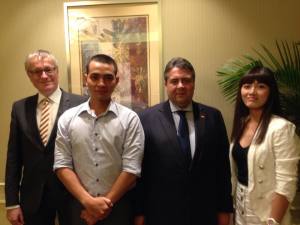 Defend the Defenders, November 8, 2018
The People's Court of Buon Ho town in Vietnam's Central Highlands province of Dak Lak has decided to carry out a trial against local human rights defender Huynh Thuc Vy on charge of "Affronting the national flag or national emblem" under Article 276 of the country's 1999 Penal Codeon November 22.
According to the decision's copy sent to the activist, the trial will be open for public and will start at 7.30 AM of November 22 at the town court's headquarters.
Vy, who has a daughter of two-year age, may face imprisonment of up to three years, if is convicted, according to the current Vietnamese law.
Last week, authorities in Dak Lak province issued a decision banning her from going abroad and placing her under house arrest.
Three months ago, authorities in Dak Lak sent a large number of police officers to Vy's private residence to arrest her and conduct her house searching. They confiscated a number of her personal items, including books and cell phones. They released her in late evening of the same day after issuing a decision to launch a probe to investigate her on allegation of disrespecting Vietnam's national flag.
The allegation linked to an event last yearwhenVy was pictured with the Vietnamese national flag which was tainted with paint. Someone said she intentionally defamed the flag that she has never recognized.
The arrest and prosecution of Mrs. Vy aim to silence her who has publicly declared that she has never recognize the communist regime.
She has posted a number of articles for human rights and multi-party democracy, including a book titled "Nhận định Sự thật Tự do và Nhân quyền" (A view on Truth, Freedom and Human Rights). She also advocates for rights of ethnic minorities in the Central Highlands, often visiting families of prisoners of conscience in the region.
She is among founders of the unsanctioned organization Vietnam Women for Human Rights and was its president before getting maternal leave.
Vy is banned from foreign trip as police confiscated her passport when she was on her way to attend a workshop on cyber security organized by Reporters Without Borders and Defend the Defenders in Bangkok in June 2015.
She was interrogated many times in the past. In 2012, she was arrested by the police, put in a car that went for a 1,000kms. She was then interrogated continuously for 12 hours, before being dropped at a fuel station at midnight.
In May2018, the British Broadcasting Corporation (BBC) listed Vy as one of five female activists who are risking their lives to protect others' rights. Other activists include Wang Yu from China, Maria Chin Abdullah from Malaysia, Anchana Heemina from Thailand and Phyoe Phyoe Aung from Myanmar.