Freelance Journalist Le Thi Thu Arrested, Beaten by Dong Nai Police for Interviewing Relatives of Convicted Mid-June Protesters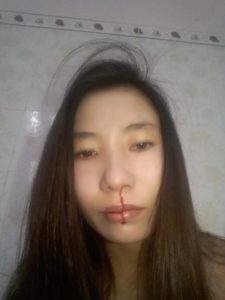 Defend the Defenders, November 16, 2018
Freelance journalist Le Thi Thu has been arrested and beaten by Dong Nai province's police for interviewing relatives of mid-June peaceful protesters on the day of their appeal, the victim has informed Defend the Defenders.
Ms. Thu, who was a former reporter of a local website Dan Tri, said when she interviewed relatives of some convicted demonstrators in a cafeteria near the People's Court of Dong Nai on the sidelines of their appeal in Bien Hoa city on November 9, she was detained by men in plain clothes who introduced themselves as police officers from the security police unit of Dong Nai province's Police Department.
The police officers ordered her to stay when she tried to leave the cafeteria, and grabbed her two cell phones. About 15 minutes later, around the lunch time of Friday, police from Hoa Binh Ward came and they took her to the ward's police station.
In the station, police confiscated her belongings, Thu said, noting that inhumane treatment of police against her started. Police requested her to provide them with information of these people who were together with me in the cafeteria. They also asked her personal information, she said.
In the early evening of the same day, a police officer named Do Anh Tuan, who introduced himself as a deputy head of the Security Police Unit of the province's Police Department, suddenly grabbed her two phones and threw them at her. Tuan then pressed against her to grab the back of her neck and jerk her back, one hand choking her neck.
Afterwards, he released his hands from her neck, tightly clenched her hair, and pounded her head on a table. As he pulled her hair up again, Tuan used his other hand to grab her jaw to raise her face, lowering his next to her's to say, "Look at my face this way," and pressed his forehead against her's one. These actions happened continuously and sequentially as outlined above.
Later, Tuan said,"Your phones are so dirty, let me wash them." He then took them to a bathroom where he submerged them in water in the sink.
Finally, at 08:00, he and another police officer constrained Thu's hands and forced her down to the first floor of the police station and requested her to leave.
On the way home from the police station, Tuan and some other police officers followed in a car behind her. When Thu stopped at a restaurant, he threatened her and did not allow her to eat, instead forcing her to continue to drive.
This has been one of series of Ms. Thu's assaults and detentions carried out by Vietnam's police in recent years after she left Dan Tri and works as freelancer, she told Defend the Defenders.
Last year, when she covered a protest of traders in the Saigon-based An Dong Market, police detained her, snabbed her face and broke her Macbook, she said.
In other times, police confiscated her cell phones and left her at an remote area near the border between Vietnam and Cambodia, she said.
Meanwhile, at noon of November 9, the People's Court of Dong Nai upheld the sentences of 15 peaceful demonstrators given by the People's Court of Bien Hoa City in the first-instance hearing on July 30. The defendants were sentenced to between eight months and 18 months in prison for participation in the mass protest on June 10 this year which aimed to protest the communist regime's plan to pass two bills on Special Economic Zones and Cyber Security.The first is likely to favor Chinese investors to hire land for 99 years amid increasing concerns about Beijing's aggressiveness in the South China Sea while the second aims to silence online critics.