Can Tho Court Upholds Jail Sentence for Facebooker Nguyen Hong Nguyen on Charge of "Abusing Democratic Freedom"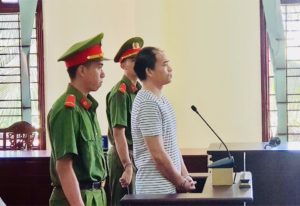 Defend the Defenders, November 22, 2018
On November 22, the People's Court of Can Tho City rejected appeal of local Facebooker Nguyen Hong Nguyen on charge of "abusing democratic freedom" under Article 331 of the Vietnamese 2015 Penal Code.
The court which lasted few hours upheld the 2-year imprisonment given by the People's Court of Cai Rang district in the trial on September 22.
According to local activists, Nguyen had no attorney to protect him in the first-instance and appeal hearings.
Mr. Nguyen, who had posted or shared numerous articles about human rights abuse and democracy on his Facebook account Bồ Công Anh, was arrested on June 16, 2018 amid increasing crackdown on local dissent.
He is among four Facebookers imprisoned in Can Tho City in recent months for their online posting. Others are Bui Manh Dong, Doan Khanh Vinh Quang and Truong Dinh Khang who received between 12 and 30 months in prison.
All of them were listed as prisoners of conscience by Now!Campaign, a coalition of 14 domestic and international non-government organizations (NGOs) which works for release of all prisoners of conscience in Vietnam.