Freelance Journalist Le Thi Thu Detained for Second Time Within Two Weeks amid Increasing Crackdown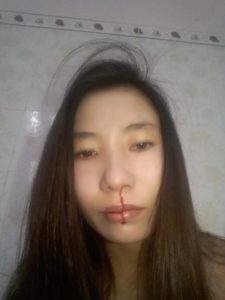 Defend the Defenders, November 22, 2018
In late evening of November 21, Vietnam's security forces detained and interrogated freelance journalist Le Thi Thu (Facebooker Thu Le) for second time within two weeks, the victim has told Defend the Defenders.
Speaking with Defend the Defenders, Ms. Thu said officers from District 12, Ho Chi Minh City detained her and her five-year-old daughter when they were staying in a hotel, and took her and her kid to the Hiep Thanh ward's police station for questioning about her activities.
Police released her and her daughter at around 8AM of next day. They wanted to hold her cell phone and Macbook but met strong protest from her who said she would go to the Ministry of Public Security to protest to get the items returned if they confiscate them.
Meanwhile, in early morning of November 21, security forces in Hanoi detained local activist Le Hong Phong to Bo De ward's police station for questioning and release him in late evening. It is unclear whether the two detentions were related.
Ms. Thu is a former of a local website Dan Tri. She has been covering reports on different issues, including unjustice, environment, land grabbing, and social disatisfaction.
On November 9, she was arrested and beaten by Dong Nai province's police for interviewing relatives of mid-June peaceful protesters on the day of their appeal.
Due to her reports, she has been under harassment of Vietnam's security forces.
Last year, when she covered a protest of traders in the Saigon-based An Dong Market, police detained her, snabbed her face and broke her Macbook, she said.
In other times, police confiscated her cell phones and left her at an remote area near the border between Vietnam and Cambodia, she said.
In Vietnam where communists have ruled for decades, the government strictly controls media. Dozens of bloggers and independent journalists have been harassed and jailed.
Vietnam's press freedom index is ranked at the 175th out of 179 countries in the Reporters Without Borders' 2018Report, unchanged from previous years.