Four Former Prisoners of Conscience Detained in Bordergate after Touring Cambodia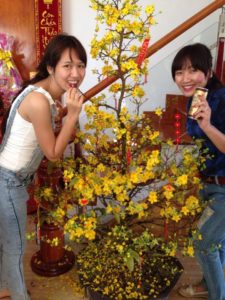 Defend the Defenders, May 28, 2019
Vietnam's security forces have detained four former prisoners of conscience named Nguyen Thi Ngoc Phuong, Nguyen Thi Truc Anh, Ho Cong Di and Vo Nhu Huynh after they returned from a tour in the neighboring country of Cambodia, Defend the Defenders has learned.
According to Ms. Nguyen Thi Vui, the older sister of sisters Phuong and Anh, the security officers held the group of four activists, Huynh's mother and 5-year-old child after they entered Vietnam from Cambodia via the Moc Bai International Bordergate in the southern province of Tay Ninh in the early morning of May 27.
During the detention which lasted around 36 hours, security officers questioned the group, asking where they had been and which activities they had done in Cambodia. It seems that the Vietnamese security forces suspect they may have attended a training course which is reconsidered by security forces as harmful for the regime.
On the same day, security forces also detained independent journalist Le Thu when she was walking near the border gate, taking her in custody for questioning. Police officers accused her of illegal travel to Cambodia but she denied, requesting the security forces to prove solid evidences for the allegation.
Police confiscated all cell phones of the detainees, not allowing them to contact with their families to inform them about their situation.
After one night and many hours of interrogation, police released all of them in the late afternoon of May 27 after confiscating an Iphone 6plus cell phone and a laptop of Ms. Thu and two laptops of others.
Phuong, Anh, Di and Huynh were arrested on June 10, 2018 while participating in the peaceful demonstration in Bien Hoa city, Dong Nai province to protest two bills on Special Economic Zones and Cyber Security. The first one seems to favor Chinese investors and ignore the country's sovereignty while the secone bill aims to silence online critics. In a trial on July 30, they were convicted of "disturbing public disorders" and the first three were sentenced to ten months while the last was given eight months in prison. They were released in February and April this year.
The four, together with 18 others in their case, were listed as prisoners of conscience by NOW! Campaign, a coalition of 15 domestic and international rights groups working for the release of all prisoners of conscience in Vietnam.