Facebooker Nguyen Chi Vung Sentenced to Six Years in Prison for "Conducting Anti-state Propaganda" Allegation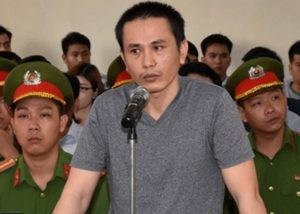 Defend the Defenders, November 26, 2019
Amid the intensifying crackdown on local dissent, Vietnam's communist regime has convicted Facebooker Nguyen Chi Vung of "conducting anti-state propaganda" under Article 117 of the country's Criminal Code.
In the one-day trial on November 26, the People's Court of Bac Lieu province sentenced Mr. Vung, 38, to six years in prison and two years of probation. The man, arrested on April 23 this year, is accused of using two Facebook accounts named Nguyễn Chí Vững and "Viên Gạch Nhỏ" to share articles and videoclips with the content harmful for the communist regime and its leaders.
Police said his articles and live streams posted on his Facebook accounts have untrue contents distorting the ruling communist party's policies and defaming its leaders as well as calling on people to uprise against the authoritarian regime.
Mr. Vung is the second Facebooker being convicted of "conducting anti-state propaganda" on Tuesday. In the central province of Thanh Hoa, Facebooker Pham Van Diep was sentenced to nine years in jail and five years of probation.
Also on November 26, the People's Court in the southern province of Dong Nai sentenced four local residents to a total 11 years in prison for their intention to participate in a peaceful demonstration in late April. They were arrested on April 25 and charged with "disruption of security" under Article 118 of the Criminal Code.
Five days earlier, security forces also arrested prominent dissident journalist Pham Chi Dung and charged him with the accusation under Article 117.
Since the beginning of 2019, Vietnam has arrested 33 political dissidents, human rights defenders, social activists and Facebookers, mostly with allegations in the National Security provisions of the Criminal Code.
So far this year, the communist regime has sentenced 37 activists to a total 185.5 years in prison and 47 years of probation, according to Defend the Defenders' latest statistics. The organization's data shows that the authoritarian state is holding 240 prisoners of conscience although Hanoi always denies of holding prisoners of conscience but only law violators.
Vietnam is still holding 22 activists in pre-trial detention, most of them have been in police custody for more than one year.