Response of Activist Dinh Thi Phuong Thao to Vietnamese Government's Statement about Interrogation Her and Confiscation of Her Passport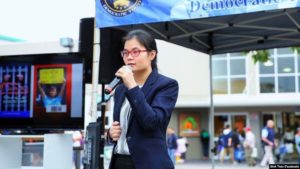 Dear Friends and Colleagues,
Recently, 4 UN Special Rapporteurs sent a communication to the Vietnamese government to question them for interrogating me and confiscating my passport when I returned to Vietnam on November 15, 2019. [1] The Vietnamese government has replied to the communication. [2]
However, their explanations in the reply are just factually wrong and misleading. I, hereby, break down into each statement and provide my counterviews:
(1) In 2015, Dinh Thi Phuong Thao received an administrative citation for joining with others to incite people to disrupt public order.
In 2015, I encountered the police 4 times. But I was interrogated only one time, which was on April 26, 2015, for taking part in a peaceful demonstration against Hanoi authorities for cutting down trees in the city.
At that time, I refused to cooperate with the police and did not sign any papers afterward because I was violently, unlawfully arrested for exercising my right to freedom of assembly and association. At the end of the interrogation, they asked a random person to sign the working record as a witness and forced me to get my fingerprints on that paper. I neither had a chance to read through the working record nor received a copy of it. A month after that, with other protesters, I filed a lawsuit to Hanoi police and procuracy to seek legal remedy, however, we did not receive any reply.
Until now, I am certain that I have never received any administrative citations from the Vietnamese police.
(2) On November 15, 2019, when entering Vietnam, Dinh Thi Phuong Thao was asked by the police to provide details on her activities relating to the terrorist group Viet Tan. The police suspected that Dinh Thi Phuong Thao had attended training courses organized by this terrorist group in the Philippines. It is normal for the police and security forces in any country to clarify suspected activities in order to protect national security and counter terrorism. This is not arbitrary detention as alleged in the joint communication for Special Procedures.
On the day of my return, I was arrested at 9 AM, waiting for the interrogators to come until 11 AM. They brought me from the customs office to the Noi Bai border police station for questioning. Two security officers questioned me mainly the whole session (11 AM – 5 PM), two others from Thai Nguyen were attending only from 2:30 PM to 5 PM. They had a break from 2 PM to 2:30 PM. The working session was filmed from the beginning until the end.
They started the interrogation by saying: "I am sure you know why you are here. You just returned from VOICE"?[3] During the session, they questioned me on three main topics: (1) 'What I have learned as a VOICE intern'. (2) 'What I have done as a VOICE staff'. (3) 'What I have advocated for the human rights situation in Vietnam with which international actors'. They barely mentioned or asked about Viet Tan. Only during the break, when the older interrogator went out, the younger one started sharing with me information about Viet Tan and how they viewed this group.
Based on what I experienced, it is evident that I was not detained because the police suspected me being involved with Viet Tan. Their footage of the session could prove that.
To my surprise, the Vietnamese government did not mention a word about VOICE, the organization I was involved with while I was abroad, the one that I cannot be prouder to be part of even in a short time, on the reply to the SPs' communication.
(3) Viet Tan is not a group with a peaceful intention but a terrorist organization founded in 1982 in Thailand. This group has for many times sent agents and weapons to Vietnam aimed at causing riots and social instability. Recently, Viet Tan continues to smuggle people into Viet Nam to carry out activities that disrupt public order, resist law enforcement personnel and destroy properties in many localities in Vietnam.
For a long time, the Vietnamese government has been unjustifiably invoking the need to counter terrorism to silence human rights activists and ignore their obligation to protect human rights. While I understand the fear of terrorism is a real concern, there is no excuse could be justified enough to violate citizens' rights without due process.
Vietnam needs to ensure the rule of law and treat everyone fairly under its law and constitution as well as international standards. Without that, arbitrary excuses to silence dissent voices will never be legit.
(4) Vietnamese authorities neither withdraw nor confiscate the passport of Dinh Thi Phuong Thao nor limit her right to freedom of expression or other fundamental freedoms. Allegations that Dinh Thi Phuong Thao and her family are frequently subjected to harassment are not true and lack merit.
I have not received my passport back after November 15, 2019. I have faced frequent online harassment since returned. [4]
My family has been harassed several times by local and provincial police from October to December 2015 and after I delivered a statement in front of the UN Human Rights Council in September 2017. The most threatening event happened in October 2015, when about 10 policemen from the provincial police came to my house in Thai Nguyen to intimidate my parents for hours. Another time, one of them tried to meet my father when he was in the hospital.
While travel restrictions are considered necessary in the time of the COVID-19 pandemic if conducted lawfully, travel bans used to punish activists for their peaceful human rights activities are legally unacceptable. Therefore, I urge the Vietnamese government to immediately return my and more than 100 other activists' passports back and stop providing wrongful information to international actors.
Until then and when Vietnam fulfills its obligations to its citizens, I will continue to fight for my own and others' rights through our domestic legal procedures as well as the international mechanisms, which Vietnam is a member of.
After 4 months living in Vietnam and 2 months experiencing the global pandemic, I firmly believe that, more than ever, we all, as an individual or part of a community, locally and globally, need to do our part to improve our society. The moment we stop taking our social responsibilities, we will directly contribute to the problems.
Having said that, I would like to thank you, friends and colleagues, for not just supporting me in times of need but showing your strengths and indomitable spirits to make the world a better place in spite of all difficulties you face.
Sincerely,
Dinh Thi Phuong Thao
To download pdf version: https://bit.ly/2JxMIrN
—-
[1] Link to the communication that 4 Special Procedure mandate holders sent to the Vietnamese government, which also includes the case of Mr. Pham Chi Dung:
https://spcommreports.ohchr.org/…/DownLoadPublicCommunicati…
[2] The Vietnamese government's reply for both Mr. Pham Chi Dung's and my cases:
https://spcommreports.ohchr.org/TMResultsBase/DownLoadFile…
[3] VOICE is a nonprofit, nongovernmental organization registered in the US and the Philippines to promote civil society development in Vietnam through its capacity building and advocacy programs. VOICE also has a refugee resettlement program to support Vietnamese refugees in the region. Link to its website: https://vietnamvoice.org/
[4]There are some links to articles about me from the pro-government websites:
http://hoicodo.com/…/ly-do-dinh-thao-bi-bat-giu-khi-tro-ve…/
https://www.loaphuong.org/…/thao-gao-bi-voice-ieu-chuyen-ve…
http://hoicodo.com/…/lo-ro-moi-quan-he-voice-greentrees-ca…/