Two International Lawyers' Organizations Condemn Vietnam's Harassment against Young Activist Truong Thi Ha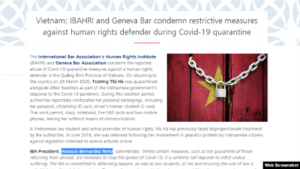 Defend the Defenders, May 1, 2020
Two international organizations of lawyers named the London-based International Bar Association's Human Rights Institute (IBAHRI) and Geneva Bar Association have condemned Vietnam's authorities for harassing local young activist Truong Thi Ha upon her return in Vietnam in late March.
Ms. Ha, who graduated law and has involved in a number of human rights events in the country and abroad, was detained on March 26 when she entered Vietnam from Laos. She was reportedly interrogated by Vietnam's security officers who also confiscated her passport, cell phones, diary, and other things. Later, she was placed for quarantine for 14 days as a measure to deal with the Covid-19 outbreak. In mid-April, she was permitted to go home in Hoai Duc district, Hanoi, without being returned the confiscated items from the police.
In a press release of the two organization posted on the International Bar Association's website on April 1, IBA President Horacio Bernardes Neto said "Whilst certain measures, such as the quarantine of those returning from abroad, are necessary to stop the spread of Covid-19, it is certainly not required to inflict undue suffering… The use of quarantine restrictions to exercise additional pressure on lawyers and law students is deeply troubling."
IBAHRI Co-Chair Michael Kirby AC CMG stated "The IBAHRI understands and commends the precautions taken by the Vietnamese authorities to prevent the spread of Covid-19. However, preventing Trương Thị Hà from communicating with anybody outside of the quarantine unit is an abuse of power and violation of a basic human right. The IBAHRI has repeatedly stressed the importance of access to information and recourse to communication during this global crisis. The removal of Ms. Hà's personal mobile phones is far from a necessary precaution with regard to Covid-19, rather, it appears to be penalization for her important activities defending human rights and the freedom of assembly."
"Measures enacted by governments during the Covid-19 pandemic should not be a means for the authorities to intimidate or monitor human rights defenders. The Siracusa Principles on the Limitation and Derogation Provision in the International Covenant on Civil and Political Rights state that measures taken should be 'the least intrusive and restrictive available to reach the objective.' The removal of Ms. Trương Thị Hà's personal documents and mobile phones are deliberately intrusive and restrictive actions, in direct contravention, the Siracusa Principles, said IBAHRI Co-Chair Anne Ramberg AC CMG.
The IBA is committed to defending lawyers, as well as law students at-risk, and ensuring the rule of law is upheld during this global pandemic.
Ms. Ha has engaged in social activism for years. She participated in the mass demonstration in Saigon on June 10, 2018 in which tens of thousands of people gathered on streets to protest two bills Special Economic Zones and Cyber Security, the first aimed to offer great incentives for foreign investors, most likely Chinese ones amid increasing Beijing's aggressiveness in the East Sea (South China Sea) while the second is the tough measure of the communist regime to silence online dissent.
She was detained, beaten, and interrogated by security forces who also requested her landlord to evict her out of her room.
In the past few years, Ha left country, going to the Philippines, Thailand, and the EU to exercise her attorney's experience and participate in a number of international events to report human rights abuse in Vietnam. She is well-known for publicly supports given to imprisoned blogger Phan Kim Khanh who is serving his six-year jail for online posts against the corruption of state officials.
Ha is among hundreds of Vietnamese activists being denied of being granted passports or having passports confiscated by security forces, or being barred from going abroad as the security forces say their acts are based on the nation's security.