Vietnamese Supreme Court to Review Case of Death Row Inmate Ho Duy Hai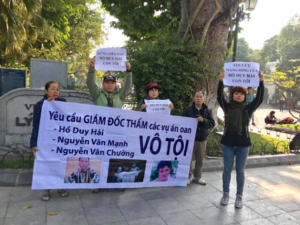 Defend the Defenders, May 2, 2020
Next week, Vietnam's Supreme People's Court will hold a three-day review of the case of Ho Duy Hai, who has been sentenced to the death sentence for the allegation of killing two post staffs in Long An province 12 years ago.
The hearing, chaired by Head of the Supreme People's Court Truong Hoa Binh, will be carried out in its headquarters on May 6-8, the state-controlled media has reported, adding that Hai's lawyer Tran Hong Phong is invited to participate in the hearing.
The review is made after Hai's family and himself have complained for the past 12 years that he is innocent and wrongly convicted due to legal miscarriage. On November 30, 2019, the Supreme People's Procuracy announced that "Ho Duy Hai's case suffered from serious procedural shortcomings that affected the quality of evidence gathered" to prosecute him.
In mid-January 2008, two female staffs named Nguyen Thi Thu Van and Nguyen Thi Anh Hong of the Cau Voi Post Office in Nhi Thanh commune, Thu Thua district were murdered in their post office. The killer seemed to steal some properties of the victims.
Shortly after that, the local police arrested Ho Duy Hai, who just graduated from a college and is a friend of the victims.
During the investigation, there are a number of police's shortcomings as they asked people to buy a knife from a local market and used it as a weapon in the murder case. Hai's family claimed that police took his younger sister's jewelry and said they were stolen by Hai from the victims after killing him.
In addition, according to the autopsy, the fingerprints taken from the scene were not from Hai.
Despite a lack of solid evidence proving his crime, he was still convicted and sentenced to the capital punishment by the Long An province's People's Court and upheld by the Higher People's Court in Ho Chi Minh City. He has claimed that police beat and tortured him for false confessions.
For more than a decade, Mrs. Nguyen Thi Loan, Hai's mother petitioned all levels of government to intercede in her son's case, even holding banners in front of the offices of the communist party's general secretary, the prime minister, and the country's president. She also enlisted the help of activists, dissidents, and human rights groups on social media to spread awareness. In December 2014, when Hai was only a day away from lethal injection, the Long An provincial court decided to temporarily suspend his execution due to uproar over the nagging inconsistencies in the case.
The case became so high-profile that legislator Le Thi Nga, head of National Assembly (NA)'s Judicial Committee at the time, involved. She personally investigated the case's inconsistencies, confirming that "there were serious violations committed by the police and prosecution in Hai's case."
Legal miscarriage in Vietnam is rampant before and after the country's parliament approved the UN Convention against Torture and other Cruel, Inhuman or Degrading Treatment or Punishment in 2014. In a number of murder cases, people sentenced to death but later have been freed after the real perpetrators confessed themselves. The victims of legal miscarriage include Nguyen Thanh Chan and Han Duc Long from Bac Can, and Tran Van Them from Bac Ninh. They have been compensated for huge sums for wrongful convictions and long spending behind the bar to wait for execution.
In all of these cases of legal miscarriage, the victims claimed that they were tortured by investigation officers for coercive confessions.