Unsanctioned Vietnamese Publisher Among Four Finalist for IPA's Prix Voltaire 2020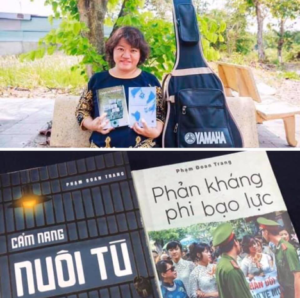 Defend the Defenders, June 2, 2020
The unsanctioned Vietnamese publisher Liberal Publishing House (LPH) has been in the shortlist of four finalists for the prize named Prix Voltaire 2020 of the International Publishers' Association (IPA), Defend the Defenders has learned.
The 2020 IPA Prix Voltaire is an award recognizing exemplary courage in upholding the freedom to publish and in enabling others to exercise their right to freedom of expression, IPA said in its press release revealing its 2020 Prix Voltaire shortlist earlier this year.
Kristenn Einarsson, Chair of the IPA's Freedom to Publish Committee said that "The 2020 IPA Prix Voltaire shortlist is made up of 4 remarkable publishers who put themselves at great risk to bring books they deem valuable to readers. We celebrate their bravery and thank them for being an inspiration to publishers around the world."
The IPA Freedom to Publish Committee (FtPC) selected Vietnam's LPH, Turkey's Avesta Yayinlari, Malaysia's Mr. Chong Ton Sin, and Pakistan's Maktaba-e-Daniyal as the finalists.
It comprises nine publishing professionals from Argentina, Egypt, Germany, Italy, Norway, Republic of Korea, Thailand, Turkey and the US.
IPA will reveal the laureate of the 2020 Prix Voltaire during an online award ceremony on June 3.
Vietnam's LPH was founded in February 2019 in Ho Chi Minh City by a group of dissidents as a direct challenge to the government's control of the industry and to bring the non-fiction work of Vietnam's growing crop of dissident writers to the nation's readers. In Vietnam such publications are known as Samizdat – the illegal copying and distribution of books – and are banned by the government as "anti-state" activity. Involvement therein carries a jail term of 20 years, forcing LPH to operate clandestinely.
According to Amnesty International's Vietnam campaign team, police have questioned nearly 100 people for either owning or reading books printed by LPH. At least, two activists Vu Huy Hoang and Phung Thuy involving in LPH's affairs have been detained, interrogated and brutally tortured by Vietnam's security forces from October last year while the publisher's key individuals, including prominent blogger Pham Doan Trang, have been chased for months and face arrest.
On  January 3 this year, authorities detained activists for reading books from LPH in "an apparent crackdown on independent reading in the country." Amnesty International and Human Rights Watch have called for the intimidation and harassment of LPH to stop.
Prix Voltaire nominees are publishers – individuals, groups or organizations – who stand firm on freedom to publish, be it as longstanding defenders of these values or having recently published works despite pressure, threats, intimidation or harassment from various sources.
Previous prize recipients include Egyptian Publisher Khaled Lotfy, Swedish Hong Kong publisher Gui Minhai (2018),Turkish publisher Turhan Günay and publishing house Evrensel, Saudi blogger Raif Badawi (2016) and Belarusian publisher Ihar Lohvinau (2014).
The IPA Prix Voltaire is unique in honouring the freedom to publish, without which many forms of freedom of expression would be impossible. Publishers who provide authors with the tools to disseminate their written ideas assume the same risks as the writers themselves.
Nominees have usually published controversial works amid pressure, threats, intimidation or harassment, be it from governments, other authorities or private interests. Alternatively, they may be publishers with a distinguished record of upholding the values of freedom to publish and freedom of expression. For the purposes of the IPA Prix Voltaire, the definition of 'publisher' is an individual, collective or organization that provides others with the means to share their ideas in written form, including via digital platforms.
The IPA Prix Voltaire, which comes with a CHF 10,000 prize, is made possible by generous contributions from sponsors, all of which are publishing houses and organizations that share the values that the IPA Prix Voltaire recognizes.
(Some materials used in this article came from IPA)