Hanoi Police Detention Facility Says Prisoner of Conscience Trinh Ba Phuong Was Moved Away Without Telling His Family New Detention Place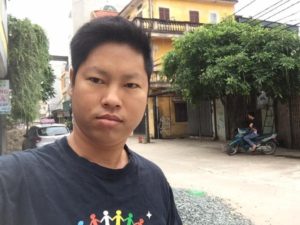 Defend the Defenders, March 20, 2021
Authorities in the Temporary Detention camp No. 1 under the authority of the Hanoi Police Department has informed the family of prisoner of conscience Trinh Ba Phuong that he has been taken away from the facility but refused to tell the family the new detention facility in which he is held.
This information was provided by his wife Do Thi Thu who conducted a prison visit to the Temporary Detention camp No. 1 located in Nam Tu Liem district on March 19 to provide additional food and medicines for him. The 36-year-old human rights defender has been held incommunicado since being arrested on June 24 last year on allegation of "conducting anti-state propaganda" under Article 117 of the Criminal Code.
Police officers in the Temporary Detention camp No. 1 told his wife that he was transferred two-three weeks ago.
Mrs. Thu and her family are concerned about the fate of her husband given the fact that torture is still rampant in Vietnam although the communist regime ratified the UN Convention against Torture in 2014 with dozens of criminal suspects and inmates being killed in prison camps and temporary detention facilities across the nation every year.
Mr. Phuong and Mr. Trinh Ba Tu are sons of former prisoners of conscience Mrs. Can Thi Theu and Mr. Trinh Ba Khiem, who were jailed for objecting land seizure carried out by the Hanoi city's authorities. They have also assisted other land rights activists and victims of legal miscarriage, especially land petitioners in Dong Tam, and reported human rights abuse to the international community.
On June 24 last year, Vietnam's security forces violently detained Mrs. Theu and her two sons as well as land rights activist Nguyen Thi Tam who is also from Duong Noi commune, Ha Dong district. All the four were charged with "conducting anti-state propaganda" and face imprisonment of between seven and 12 years in prison if they are convicted. They have been held incommunicado since being arrested.
While Phuong was arrested by Hanoi police, his mother and young brother were detained by the Hoa Binh province's police which reportedly completed their investigation and handed over the investigation results to the province's Procuracy and People's Court with a proposal to prosecute them.
Their arrests are linked to their advocacy and support given to Dong Tam land petitioners before and after the bloody raid of 3,000 riot policemen to the commune on January 9 last year, in which police shot to death communal leader Le Dinh Kinh and arrested around 30 villagers.
Phuong and three other human rights defenders in Duong Noi are among 90 activists being imprisoned and charged of "conducting anti-state propaganda." Many of them have been sentenced to between seven and 15 years in prison in recent years.