Appeal Hearing of Democracy Campaigner Tran Duc Thach Scheduled on March 24, No Hope for Sentence Reduction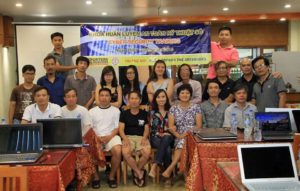 Defend the Defenders, March 19, 2021
The Higher People's Court in Hanoi has scheduled to hold the appeal hearing of democracy activist and human rights defender Tran Duc Thach on March 24, three months after he was convicted of subversion under Article 109 of the Criminal Code and sentenced to 12 years in prison and three years of probation by the People's Court of Nghe An province.
During the first-instance hearing which lasted only three hours on December 15 last year, the 68-year-old activist did not admit his wrongdoing but declared to appeal the court's verdict, saying he just exercised his basic rights to protect Vietnam's sovereignty amid China's increasing aggressiveness in the East Sea (South China Sea) and voice against human rights abuse.
Mr. Thach is a former prisoner of conscience from the central province of Nghe An, the home of late communist leader Ho Chi Minh. He is a founding member of the unregistered group Brotherhood for Democracy (BFD) which has many key members being convicted of subversion and sentenced to between seven and 15 years in prison in recent years.
He was arrested for the first time in 2009 and sentenced to three years in jail and three years of probation on a charge of "conducting anti-state propaganda" under Article 88 of the Penal Code for claiming Vietnam's Hoang Sa (Paracels) and Truong Sa (Spratlys), the two archipelagos also claimed by China, and demanding human rights improvement in the communist nation. Particularly, Thach, together with activists Vu Van Hung and Nguyen Xuan Nghia hang out a banner which states "Hoang Sa and Truong Sa belong to Vietnam" at Mai Dich Bridge in the capital city of Hanoi. His fellows were also jailed with lengthy sentences.
He was re-arrested on April 23, 2020 on allegation of conducting "Activities against the people's government" underArticle 109 of the Criminal Code for his involvement in BFD. The Nghe An province's police also conducted searching for his house, confiscating a laptop, cell phones, a camera as well as VND9 million ($380) and $400, according to his family.
In the first-instance hearing, Mr. Thach was also accused of posting and sharing numerous articles on Facebook with content to distort the regime's policies with the aim to trigger social disorders amid the COVID-19 pandemic.
Thach was an officer of the communist army participating in the Vietnam War. After leaving the communist army in 1975, Thach wrote a memoir named "Obsessive mass grave" to describe how communist soldiers assaulted innocent civil people while invading South Vietnam during the Vietnam War. In 1976, he self-immolated to protest unfair policies of authorities in Nghe An province and Dien Chau district. Due to the act, his face was deformed.
Vietnam's communist regime has intensified its crackdown on local dissent from late 2015 when the ruling Communist Party of Vietnam began to prepare for its 12th National Congress which was carried out in January 22016. Since then, more than 200 activists have been arrested and charged with controversial allegations in the National Security provisions of the Penal Code 1999 or the Criminal Code 2015, many of them were sentenced to lengthy imprisonments of between five and 20 years.
The ruling Communist Party of Vietnam conducted its 13th National Congress on February 1 with many conservative figures being re-elected to its most powerful 18-member body Politburo such as General Secretary cum State President Nguyen Phu Trong, Prime Minister Nguyen Xuan Phuc, and Minister of Public Security To Lam. After the congress, the security forces continue crackdown on local dissent, arresting three Facebookers on the allegations of "conducting anti-state propaganda" and "abusing democratic freedom" with imprisonment of between three and 12 years if they are convicted.
It is a little hope for Mr. Thach to get freed or sentence reduction in his upcoming appeal hearing. In January, prior to the party's congress, Vietnam convicted four activists of "conducting anti-state propaganda" under Article 117 of the Criminal Code and sentenced them to between seven and 15 years in prison. President of the professional group Independent Journalist Association of Vietnam (IJAVN) Dr. Pham Chi Dung was sentenced to 15 years in prison while his deputy Nguyen Tuong Thuy was given 11 years in prison. The two activists were given additional three years of probation.
The People's Court of Phu Yen province plans to hold the first-instance hearing on March 22 to try local freelance journalist Tran Thi Tuyet Dieu on the allegation of "conducting anti-state propaganda" for her online posting. She was arrested on August 22 last year, and faces imprisonment of between seven and 12 years in prison if is convicted.
Vietnam is the biggest prison for prisoners of conscience in Southeast Asia. Amnesty International said the number of prisoners of conscience in Vietnam is 170 while according to Defend the Defenders' latest statistic, the number is 258as of March 15.