Appeal Hearing of Democracy Activist Luu Van Vinh and His Friends Postponed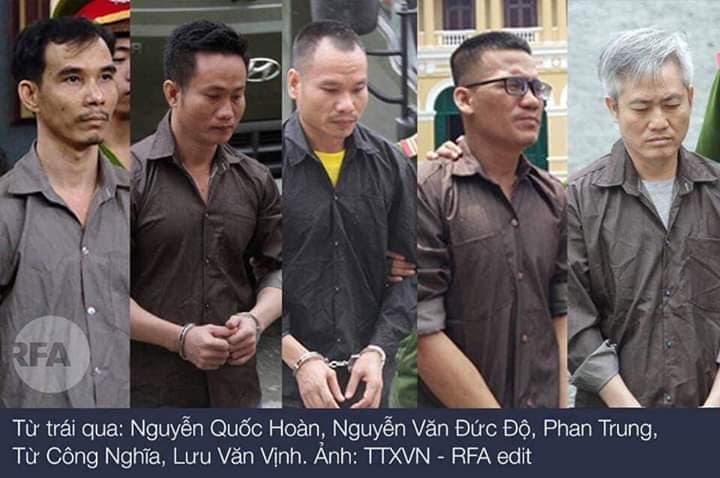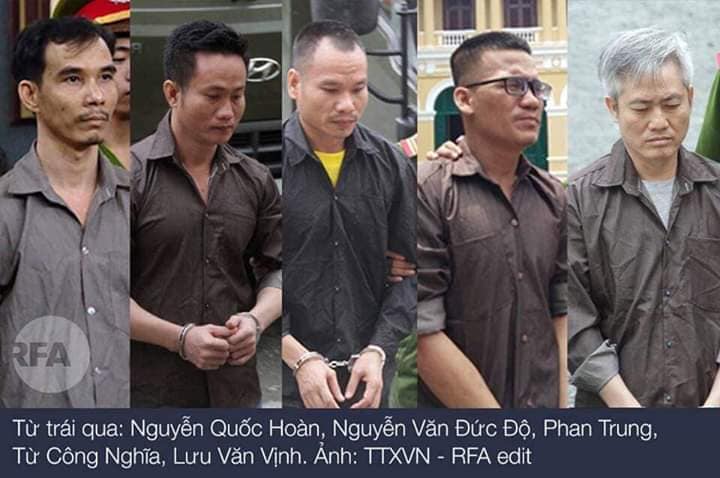 Defend the Defenders, January 21, 2019
On January 21, the Higher People's Court in Ho Chi Minh City postponed the appeal hearing of democracy activists and human rights defenders Luu Van Vinh, Tran Quoc Hoan, Nguyen Van Duc Do, Tu Cong Nghia and Phan Trung.
The absence of an appointed lawyer of defendant Mr. Trung was the reason for the appeal delay, said relatives of the defendants, adding the families of four other activists have hired lawyers to protect them while Phan Trung has no his own legal assistant.
It is unclear when the appeal hearing of the five activists will be resumed, said Mrs. Thap, the wife of Mr. Vinh.
Mr. Vinh and his four friends were arrested in early November 2016 and charged with "carrying out activities aiming to overthrow the government" under Article 79 of the country's 1999 Penal Code due to their plan to set up an group called Vietnam National Coalition which aims to request the right for Vietnamese citizens to have their roles in solving the country's issues.
Upon their arrest, Mr. Vinh and others were brutally beaten. In addition, Mr. Do was beaten several months ago after the trial.
In their trial on October 5 last year which lasted one day and failed to meet international standards for fair trial, the People's Cout of Ho Chi Minh City convicted them, sentencing them to a total of total 57 years in prison and 15 years of probation. Particularly, Mr. Vinh was sentenced to 15 years, Mr. Hoan- 13 years, Mr. Do- 11 years, Mr. Nghia- ten years and Buddhist monk Trung was given eight years. In addition, each was given three years of probation afterward.
During the trial, Mr. Vinh and Mr. Do reaffirmed their innocence while Mr. Hoan and Mr. Nghia said they were forced to make false confession during interrogation, said lawyer Dang Dinh Manh.
On October 4, one day prior to the trial, Human Rights Watch issued a statementcalling Vietnam's communist regime to release them without conditions.
This prosecution shows there is no end in sight when it comes to the government stamping down on calls for political pluralism, democracy, or respect for rights," said Phil Robertson, deputy Asia director at Human Rights Watch. "These five advocates are heading to prison for a long time simply for daring to criticize the Communist Party."
In late April, 2018, the UN Working Group on Arbitrary Detention officially said that the arrest of Luu Van Vinh was arbitrary and urged the Vietnamese government to release him and compensate him for illegal arrest and detention in accordance with international law.
The arrests and detentions of Vinh and his four friends are part of Vietnam's ongoing crackdown on local dissent amid increasing social disatisfaction.
In order to keep the country under a one-party regime, the security forces are striving not to allow the formation of opposition parties. Dozens of activists who advocate for multi-party election have been sentenced to lengthy imprisonments for subversion allegations.
So far this year, Vietnam has arrested 27 activists and sentenced 41 human rights defenders with a total 302 years and nine months in prison and 69 years of probation.
The communist nation is holding 244 prisoners of conscience, according to NOW!Campaign, a coalition of 14 domestic and international NGOs, including Defend the Defenders, Boat People SOS (BPSOS), Civil Rights Defenders (CRD) and Front Line Defenders (FLD).