Appeal Hearing of Luu Van Vinh and His Four Fellows Re-scheduled on March 18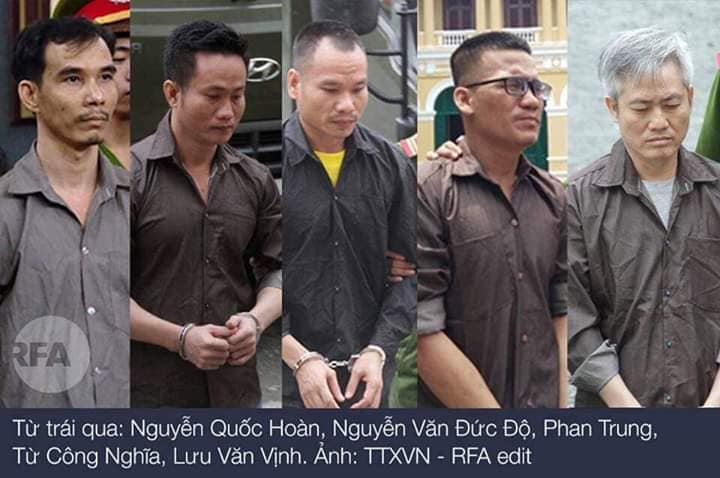 Defend the Defenders, March 6, 2019
On March 18, the Higher People's Court in Ho Chi Minh City will hold the appeal hearing of five members of the to-be-established Vietnam National Coalition who were convicted of "carry out activities aiming to overthrow the government" under Article 79 of the 1999 Penal Code.
In late 2018, the court planned to carry out the appeal hearing of human rights defenders and democracy campaigners Luu Van Vinh, Nguyen Quoc Hoan, Nguyen Van Duc Do, Tu Cong Nghia and Phan Trung on January 21 this year, however, the hearing was postponed due to lack of a lawyer of Mr. Phan Trung.
In recent week, his family hired lawyer Nguyen Van Duc to defend him.
The five activists were arrested in early November 2016 and charged with subversion due to their plan to set up the Vietnam National Coalition with aim to promote civil and political rights of all citizens. According to the accusation of their families, Vinh and his fellows were brutally beaten during their arrest.
After many months being kept incommunicado, they were tried by the People's Court of HCM City. After one day of working, the court sentenced them to a total 57 years in prison: Mr. Vinh – to 15 years, Mr. Hoan- 13 years, Mr. Do, who is also vice president of the unregistered union organization Viet Labor Movement, was given to 11 years while Mr. Nghia and Mr. Trung were sentenced to ten and eight years, respectively. In addition, all of them will have to spend three years under house arrest after completing their imprisonments.
Their arrests and convictions are part of Vietnam's ongoing crackdown on local dissent which started in late 2015 with the arrest of prominent human rights lawyer Nguyen Van Dai and his assistant Le Thu Ha.
Last year, Vietnam arrested around 30 activists and convicted 41 human rights defenders with a total imprisonment of 302 years and 69 years of probation.
So far this year, Vietnam's security forces have arrested eight democracy campaigners and social activists named Huynh Minh Tam, Huynh Thi To Nga, Huynh Dac Tuy, Duong Thi Lanh, Nguyen Van Cong Em, Nguyen Van Vien, Tran Van Quyen and Ha Van Nam.