Trial of Anti-tollbooth Fraud (ATF) Activist Mr Ha Van Nam Scheduled on July 30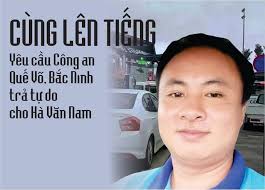 Defend the Defenders, July 17, 2019
Authorities of the northern province of Bac Ninh province have decided to hold the first-instance hearing of Ha Van Nam and six other anti-tollbooth fraud (ATF) activists on July 30 after canceling the trial on June 25.
The seven activists were charged with "'causing public disorder" under Article 318 of the Penal Code in a trumped-up case. They face imprisonment of between two to seven  years if are convicted.
Mr Nam, who was arrested on March 5, holds a master in business management and is the owner of a construction firm. Two months earlier, he was kidnapped and savagely bashed by a group of people in civilian clothing.
See Amnesty International's statement on anti-tollbooth fraud activist Mr Ha Van Nam https://www.amnesty.org/en/documents/asa42/9991/2019/en/
Vietnam has nearly 100 BOT (Build-Operate-Transfer) toll booths, many intentionally placed at wrong locations so investors can collect more tolls, including from those who don't use the BOT facilities. All illegal BOTs are backed by senior officials of the regime.
Nam is among a number of ATF activists being persecuted and harrassed by authorities in localities where illegal BOT toll booths are placed. Other include Tran Dinh Sang, Nguyen Quang Tuy, and Dang Thi Hue.