Allegations against Many Activists Suddenly Changed from Political to Criminal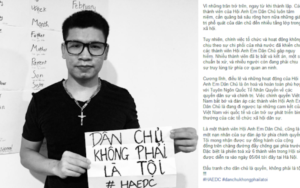 Defend the Defenders, December 22, 2019
Vietnam's Ministry of Public Security has changed the political charges of many pro-democracy activists and human rights defenders to criminal ones in a bid to defame them and make ways for detaining them even they have been relocating to other countries.
In its website, the ministry changed the charges against many activists in their wanted notice. Particularly, the charge against Mr. Nguyen Van Trang and Mai Van Tam was changed from subversion to procuring while the charge against Ms. Pham Thi Lan was changed to "sử dụng trái phép vũ khí thô sơ" or "unauthorized use of rudimentary weapons" which is not included in the country's Criminal Code. Mr. Tam and Ms. Lan are vice presidents of the Brotherhood for Democracy (BFD).
Former prisoners of conscience Tran Minh Nhat's accusation of "failure to serve a judgment" was changed to "taking bribes" while the same allegation of Thai Van Dung and Le Van Son was changed to "Inciting or aiding another person to commit suicide" in the code. The three activists are members of the US-based Viet Tan (Vietnam Reform Party) which is listed as a terrorist group by the communist regime.
BFD has issued a statement protesting Vietnam's move, saying it is a dirty game of the communist regime in a bid to enhance chasing those who still stay in the country or ask neighboring countries to deport those who have been forced to relocate to avoid being arrested.
These activists mentioned above have been persecuted and face being arrested by the communist regime so they have been forced to live in shelters in the country or neighboring states.
By changing political allegations against them to criminal ones, Vietnam's communist regime strives to cheat the international community and avoid global condemnation for human rights abuse.
Vietnam is among the world's biggest prisons for journalists, according to the Committee to Protect Journalists, and the country is ranked at the 176th of 180 countries in the Global Press Freedom Index 2019 of the Paris-based Reporters Without Borders.
According to Defend the Defenders' latest statistics, Vietnam is holding at least 239 prisoners of conscience in severe living conditions without proper medical services in prisons across the nation. Hanoi always denies holding prisoners of conscience but only law violators.