Many Facebookers Disappeared in Ho Chi Minh in Early September amid Growing Crackdown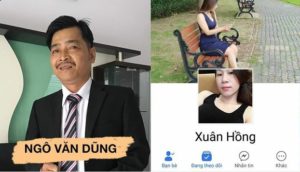 Defend the Defenders, September 8, 2018
Many Facebookers have gone missing in Ho Chi Minh since early September when the local government has imposed many measures to tighten public control to deal with online calls for mass demonstration, Defend the Defenders has learned.
Among victims are Dak Lak province-based independent journalist Ngo Van Dung, Ms. Doan Thi Hong (with Facebook nickname Xuan Hong), Mr. Pham Minh Tri (with Facebook nickname Pham Vu Phong), Do The Hoa, Le Vinh Thach, Ms. Kim Hoan and Nguyen Chi Vung.
Mr. Ngo Van Dung was reportedly arrested on September 4 when he went and took pictures in District 1. According to his Facebook livestream made in the morning of Tuesday, he and his friend were riding on a motorbike before getting detained by police, likely from Ben Thanh ward.
Informed about her husband's detention, Mrs. Kim Nga went from their native province of Dak Lak to HCM City to seek for him. Police in Ben Thanh ward confirmed that they detained him but deported him to Dak Lak. However, authorities in Dak Lak said he is still held by police in HCM City.
Five days after his disappearance, Mr. Dung's family has not been awared of his situation.
According to Radio Free Asia, Ms. Doan Thi Hong and Mr. Pham Minh Tri were arrested by police from Dong Hung Thuan ward, District 12 on September 2. However, their families got no arrest confirmations from both police units.
Another Facebooker Thanh Sang from Dak Lak province was also detained by police in Hiep Binh Phuoc ward, Thu Duc district on September 2. He was kept in police's custody until the noon of September 7. He was said to be forced to provide the password of his Facebook account Thanh Sang to police.
The number of abductions of activists made byVietnam'ssecurity forces has been increased recently, and many ofkidnapped activists have been criminally charged later while others were released without being prosecuted.
On September 3, plainclothes agents in the central province of Nghe An kidnapped physical teacher Tran Huu Dao when he walked from a bus stop to Thai Hoa High School in the town of Thai Hoa. The kidnappers dragged him into a taxi and droved to a remote area six kilometers from the scene. During the journey and at the remote area, the kidnappers continously beat him until he collapsed. The attackers destroyed his cell phone before leaving him in a mud area.
On September 1, HCM City's police came to the private residence of Tran Phuong in Binh Tan district to detain him and confiscate some of his stufts. He was taken to the police station in Binh Hung Hoa ward, and is still under police custody.
Earlier, on August 15, Vietnam's authorities kidnapped former political prisoner Nguyen An and held him in a secret place for nearly two weeks until August 27.
According to local activists, Vietnam's security forces have detained around 90 activists from late August, and released most of them but still hold some in custody, however, Defend the Defenders couldnt verify the information. The number included 31 detainees in the demonstration in Duc Pho district in the central province of Quang Ngai to protest waste dumping in the location which affects the lives of the local residents.
Vietnam has also conducted a number of arrests of activists in recent months. On July 7, police in HCM City detained Huynh Duc Thanh Binh, Tran Long Phi and Vietnamese American Michael Nguyen Minh Phuong. Later, they charged Binh with subversion, and still hold the two guys without charges.
In late August and early September, Vietnam also detained many Facebookers.Within a week, police arrested four Facebookers namely Doan Khanh Vinh and Bui Manh Dong from Can Tho City, Nguyen Ngoc Anh from Ben Tre province and Huynh Truong Ca from Dong Thap province. They were accused of posting articles on their Facebook accounts harmful for the ruling communist party and its government, and calling for demonstrations.
Mr. Anh, a shrimp grower, was arrested on August 30 and later charged with "Making, storing, spreading information, materials, items for the purpose of opposing the State of Socialist Republic of Vietnam" under Article 117 of the 2015 Penal Code. He is held incommunicado for at least four months and faces lengthy sentence, according to the current Vietnamese law.
Authorities in Hanoi and HCM City as well as others localities are taking different measures to prevent mass demonstrations amid call for rallying on streets to overthrow the communist government in early September on the occasion of the Independent Day (September 2). Most of the calls have been made by exiled Vietnamese who blame the communist regime of failing to address the country's issues, including weak responses to China's violations of the country's sovereignty in the South China Sea, systemic corruption, serious environmental pollutions, and human rights violations.
Along with sending plainclothes agents and militia to station near private residences of local dissidents, authorities in Hanoi and HCM City deployed large number of police, including riot police, and militia to patrol in major streets and key locations, effectively placing the cities in the state of emergency. In places usualy for walk, police were ready to arrest any if they suspected that individuals intend to join peaceful demonstrations.
In mid June, tens of thousands of Vietnamese rallied on streets in Hanoi, HCM City and other localities to protest two biils Speical Economic Zones and Cyber Security. The communist-dominated parliament passed the second bill on June 12 but decided to delay the discussion and approval of the first bill to 2019.
During and after the protests, security forces detained hundreds of demonstrators, many of them were subjects of police torture. Around 40 demonstrators have been convicted and sentenced to between eight and 42 months in prison. Many of them were beaten upon detention and tortured during interrogation..